Retirement Auction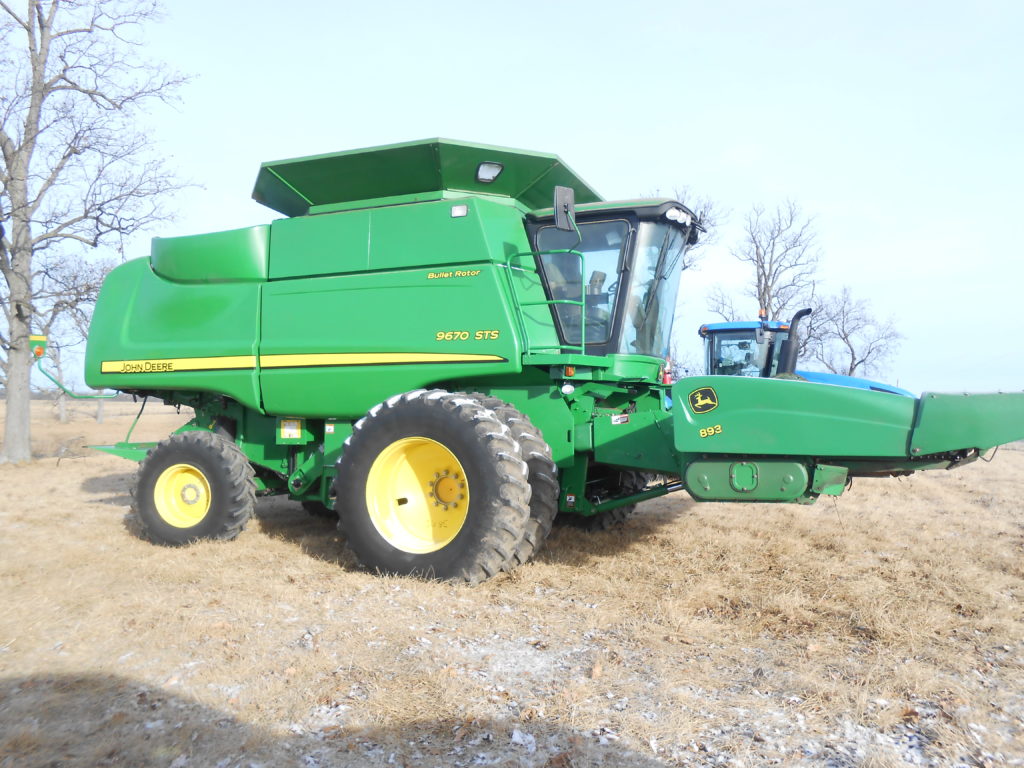 Tractors:  2011 Ford New Holland T9450, 4WD, 872 hrs. guidance equipped, 4 remotes, 520-85R46 tires; 2009 Case IH Steiger 335, 4WD, 1641 hrs., leather, 4 remotes, PTO, trimble guidance, 480/80R46 tires, SN# Z9F113605; IH 4586 4WD, Cummins repower, 3 remotes, 20.8×38 tires; F12 Farmall; Farmall B, narrow front & narrow rear end; Combine:  2008 JD 9670 STS bullet rotor, chopper, mauer bin extension, yield monitor, 1412 sep. hrs., 1981 eng. hrs., 20.8×38 duals, 480x85R26 rears, SN# H09670S725523; 2005 JD 893 poly corn head, hyd. deck plates, SN# H00893X715682; 2009 JD 630F hydraflex, fore & aft, 3" sickle, SN# H00630F731184; EZ-Trail head mover; Planter:  1998 Case IH 1200 16-row 30" planter, center fill, pivot, coulters, residue managers, insecticide, Pro 700 monitor, SN# CBJ0001748; Truck:  1994 IH 4900 tandem, 466 motor less than 5000 mi on overhaul, 10 spd. eaton, 22' bed w/barn doors, 3 auger shoots, tarp, 11R22.5 front & rears; Equip:  Patriot 100 2 box tender, Honda elec. start; Best Way sprayer, 45' booms, foamer, tandem walking axle; DMI Tiger Mate 42 1/2' field cultivator, 5-bar drag; 496 IH 24' disc, 7 ½" spacing; Krause 26' disc, 7 ½" spacing; Kewanee 11 shank disc chisel; DMI 30' crumbler; Kent Series V1 Disc-o-vator, 5-bar drag; JD 4-row 7000 planter, coulters, insecticide; Tye drill, 20'x8" spacing, markers, 3pt. mount; Lundell 8' snow blower, 3 pt. mount; Woods 6' rear mount finishing mower; Woods 5' belly mower; (2) 60' augers.
Please be on time – this sale will not last long, and there are no small items.
Additional Photos
Terms and Conditions
Cash or checks only for personal property. All items sold "as is, where it is, and without warranty." Buyer is responsible for inspection prior to purchasing. All announcements sale day take precedence over printed material. All items must be paid for on day of sale. Cowman Auction LLC is not responsible for accidents, errors or omissions.
Payment
Cash or checks only.
Disclosure of Owner Names
Larry & Karen Summers
Contact Information
Auctioneers:
Aron 217-473-4840
Ron 217-473-7550
Ed 217-473-0411
Auction Date

March 3, 2018

Auction Start Time

10:00 a.m.

Auction Location

3118 Summers Rd. – Waverly, IL

Directions

1 ¼ mi. south of Waverly on Rt. 111 to Panhandle Rd., turn west for 2 ½ mi. The road turns south for ¼ mi., then west on Summers Rd., for ¾ mi. to auction site.

Additional Information

Larry and Karen have decided to retire after 50 years of farming.

Please be on time - this sale will not last long, and there are no small items. Your attendance is appreciated.