Farm Machinery Retirement Auction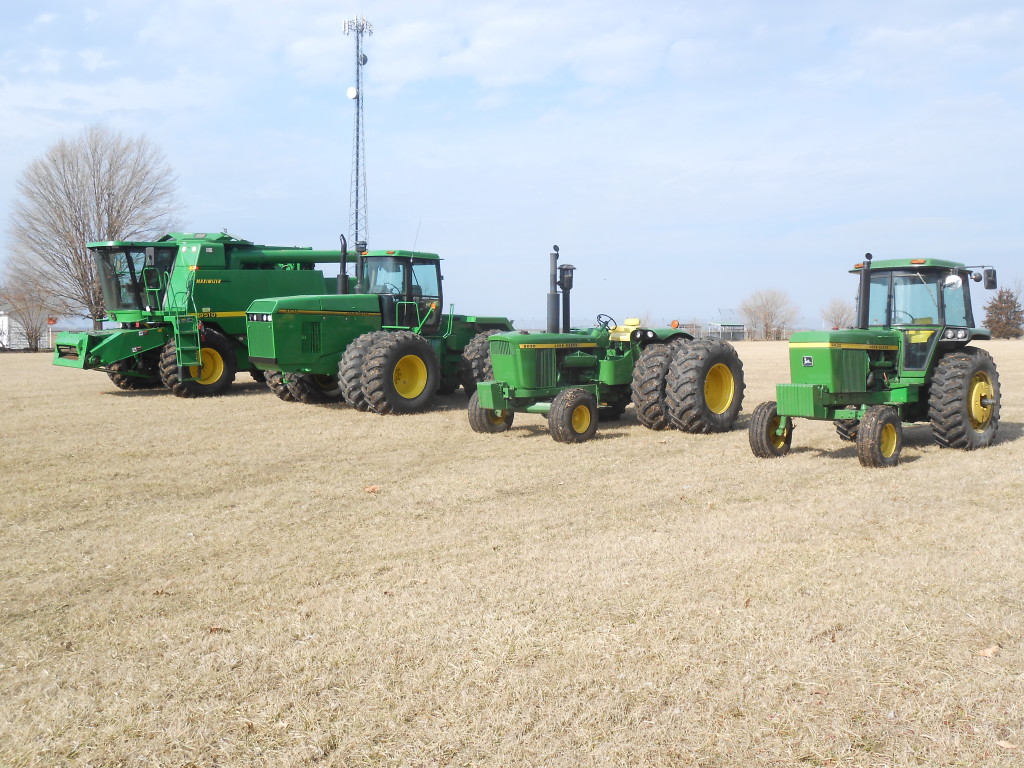 Combine:  John Deere 9510, SN# H09510X677813, 30.5×32, 16.9×26, maurer bin extension, 2877 engine hours, 2035 separator hours; John Deere 220 grain head, SN# 544809, 3" sickle, fore & aft, up & down; John Deere 643 low tin 6 row 30" corn head;  (2) EZ Trail 672 head movers;
Tractors , Truck & Trailer:  John Deere 8870 4WD, SN# RW8870S001974, with 6802 hrs., 12 spd., 4 hyd., bare back, 24.5×32 dualled; John Deere 6030, SN# B313R-036111R, 6484 hrs., fresh overhaul with 500 hrs., 24.5×32 tires w/duals, 2 hyd., 3 pt. quick hitch, PTO, 6 front weights & wheel weights; John Deere 4430, SN# 008688R, with 2524 hrs., quad range, 2 hyd., 3 pt. quick hitch, 2 PTO's, new Firestone 18.4×34, 6 rear weights, 10 front weights, clamp on duals; John Deere D, SN# 188177, PTO, drawbar, 14-30 tires, new front tires, electric start, 80% restored; John Deere A, SN# 589773, PTO, drawbar, new 12.4×38 tires, 80% restored; 2006 GMC 4×4 extended cab 2500 HD with 38,570 mi., 8100 vortec, leather , loaded, long bed; 2007 Trailerman 16' with 2' dovetail ramps, and brakes;
Equipment:  John Deere 1770 MaxEmerge Plus planter, vacumeter 12 row 30", large seed boxes, residue managers & coulters, 1 spiked closing wheel, front fold, 2 pt. hitch; John Deere 230 Disc, cone blade, 9" spacing; DMI 730 Ecolo-tiger disk chisel with leveling disk; DMI mounted 11 shank chisel champ; John Deere 1350-1450 6-bottom, 16" plow; John Deere 980 50' field cultivator, walking tandems, gauge wheels, 3 bar drag with rolling basket; John Deere 6-row narrow cultivator; John Deere 5-bottom plow; Kuker 500 gal. sprayer; Westfield MK80-71' swing away auger, hyd. lift;
Wagons & Mowers:  Brent 450 bushel wagon; Parker 500 bushel wagon; Parker 250 bushel wagon; (2) Kilbros 200 bushel wagons on JD running gears; Bush Hog 840 Squealer shredder, 540 PTO;  John Deere HX15 batwing shredder, solid tires; 9' IH sickle bar mower.
Additional Photos
Terms and Conditions
Cash or checks only. All items sold "as is, where it is, and without warranty." Buyer is responsible for inspection prior to purchasing. All announcements sale day take precedence over printed material. All items must be paid for on day of sale. Cowman Auction LLC is not responsible for accidents, errors or omissions. Loader available.
Payment
Cash or checks only.
Disclosure of Owner Names
H.A. and Colleen Votsmier
Contact Information
Aron Cowman 217-473-4840
Ron Cowman 217-473-7550
Ed Cowman 217-473-0411
Documents

Final Sale Bill

tractors
Auction Date

March 12, 2016

Auction Start Time

10:00 a.m.

Auction Location

401 West Buchanan Street, Ashland, IL 62612

Directions

Approx. 20 mi. west of Springfield, IL on Rt. 97/125 to Ashland; or east of Jacksonville, IL on Rt. 72 to Ashland exit, then north on Rt. 123. (East of A-C Central High School.) Watch for signs.

Additional Information

H.A. has decided to retire after 60 years of farming. This is an excellent line of equipment that has been well-maintained, shedded, and is field ready. (All equipment hours and vehicle mileages are at time of listing.) You don't want to miss this sale.